Open Evenings and mornings
Our Open Evening events are hugely popular and are designed to provide prospective students and their parents a flavour of who we are and what we believe. Events are often fully booked well in advance so we recommend booking early to avoid disappointment.
The first of our two Open Evening for children transferring to secondary school in 2024 and their parents / carers was on Thursday 15 June 2023 and the second was on Thursday 14 September 2023. There are no further open evenings before the deadline for applications.
Open Mornings
If you were unable to attend an open evening, there is an opportunity for Year 6 children and their parent/carer to visit the college during school-day mornings, by appointment only.
Each session starts at 9 am and ends at 10.30 am. The Open Mornings are for Year 6 children and their parents/carers, who have yet to choose their preferred secondary school. Places are limited and, so that as many Year 6 children as possible have the opportunity to visit the college, each booking is restricted to the Year 6 child and up to two parents/carers each, who were not able to attend an open evening.
Our Open Mornings are on:
Tuesday 26 September

Wednesday 27 September

Thursday 5 October

Friday 6 October
Attendance to the Open Mornings is by appointment. Please send an email with the following information to admissions@thespirescollege.com to book your place.
Date you would like to book for:

Name of Parent/Carer

Name of Student

Primary School

Email address (parent/carer)

Phone number (parent/carer)

Number of people visiting

Any other information we may require (eg 11+/SEN)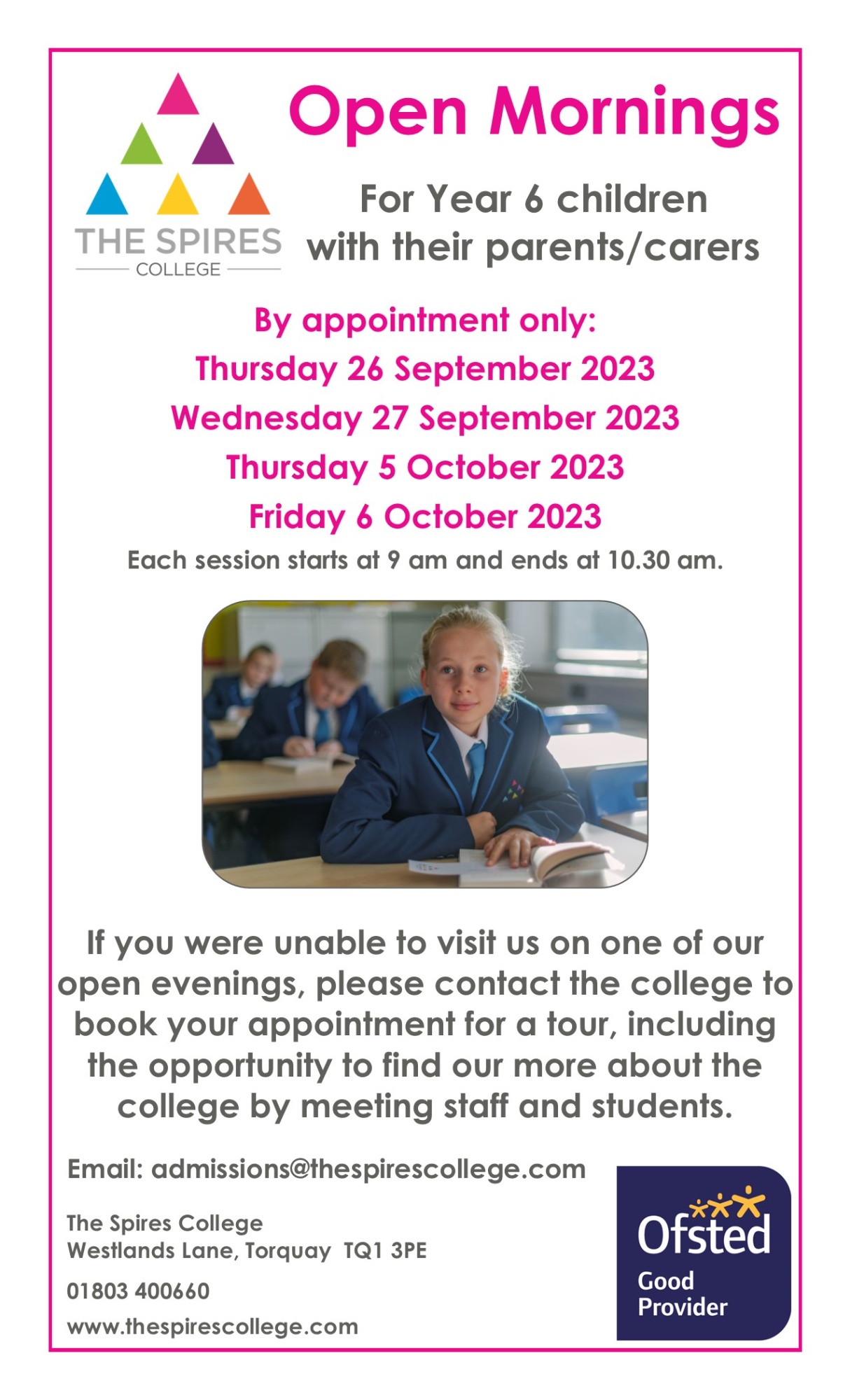 If you are unable to attend one of our open events, to get a taste of what is on offer, we have a series of short films telling you about the different departments and the facilities on offer at the college. It's not as exciting as being able to walk around and soak up the atmosphere of the college but we hope it gives you an initial introduction to our community. Leaving primary school, where children probably know every pupil and every teacher, can feel a bit scary for some, so watching some of the films with parents and carers is a great way of starting to feel excited about moving on to secondary school.
To view our virtual open evening videos, please click here.
BESPOKE TOURS
Unfortunately, we are unable to offer bespoke tours for individual families who have children transferring from local primary schools. We simply do not have the capacity to offer this service. Families who are relocating to the area who are not able to attend the open evenings can email admissions@thespirescollege.com for more information about visiting the college.
Parents and carers of children with Special Educational Needs and Disabilities may contact our SENDCo, Katherine Hurst, for more information about our SEND provisions. Unfortunately, as above, we do not have the capacity to offer bespoke tours: send@thespirescollege.com.
If you have any questions about admission to the college, please email: admissions@thespirescollege.com